Destinos Episode 6 Flashcards (Set 1)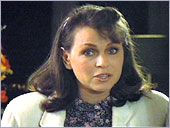 Miguel, hermano mayor de Jaime

Miguel, older brother of Jaime

él es uno de los hijos de esta señora

he is one of the sons of this lady

perdón, necesito tu ayuda

excuse me, I need your help

What? (when you don't hear something)

¿Dónde vive (ella) ahora?

Esta señorita busca a la abuela.

This young lady is looking for Grandma.

Ahora tengo que ir a Madrid.

Now I have to go to Madrid.